Welcome to Tom Silver's Japan and Its Prints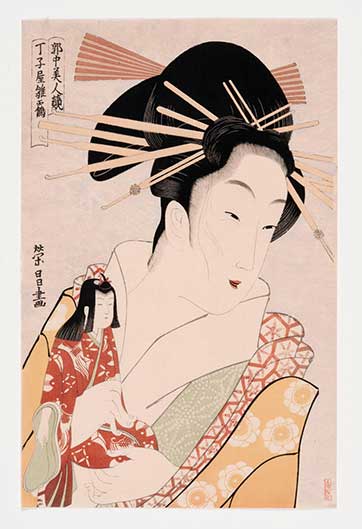 Few endeavors have given me more pleasure than Japan and Its Prints, now taking shape on this website. Japan and its culture have an easy allure for Westerners unfamiliar with its rich traditions, long history, and artistic legacy. My hope is to share some of that with visitors to this site. The Multimedia Print Presentations are about art and music, with music represented by the traditional and beautiful Japanese koto, and art embodied in splendid Japanese prints of every variety. Whether it's the simple humanity of those wonderful faces in a Hokusai or Hiroshige scene, a captivating Hasui seascape, a masterful Utamaro or Goyo portrait, or a glimpse into the human soul offered by centuries of kabuki actor prints, there's treasure enough here to enrich anyone open to embracing it.
This website is a work in-progress. Expect more over time, i.e., articles on diverse subjects relating to Japan, more book and film recommendations, and hopefully some original brush paintings. The Multimedia Presentations are organized chronologically by historical era or artist, or thematically by subject. They need not be experienced in the order listed to be enjoyed. However if you want to follow the technical development of the Japanese print visually over time, you can work your way down the list in order. The goal here is to create compelling multimedia presentations rather than offer integrated explanatory text, which would only detract from the multimedia experience. There are plenty of terrific books which offer information on each topic, and many were consulted in preparation for this site.
With that said, eventually the site will include detailed background articles tailored to each multimedia subject. The first already are posted and may be accessed by going to Tom on Japan. We'd appreciate hearing from you about anything on this site. Just go to the Contact to comment. All comments will be kept private.
Finally, heartfelt thanks are due New Jersey photographer Rich Russo, who skillfully photographed the prints in these presentations, Masayo Ishigure, whose virtuoso performances on the koto add immeasurably to the visual experiences, and Robert Stern, whose poetry here beautifully conveys the essence of the Japanese poetic art. Much appreciation is owed New Jersey videographer Jessica Van Lachterop, who arranged each Multimedia experience seamlessly, and just as requested. And continuing thanks go to New Jersey web developer Graphic Studio, for their wonderful cooperation and skill in designing this website and keeping it in tune with evolving technology.