Biography of Tom Silver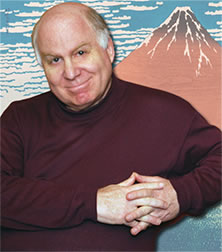 Tom Silver is a former businessman, classical guitarist and recording artist who developed an interest in Japanese prints while searching for an unusual gift for his wife. That search sparked a love for this art which grew to encompass Japanese history and culture generally. Mr. Silver's talks at libraries and other institutions showcase print masterpieces covering the 350-year history of the Japanese print genre. His current focus is Japanese prints during the Tokugawa Shogunate (Edo era). This website showcases articles he has written on Japanese culture and history, along with his Multimedia Print Presentations which present a cross-section of prints from all 350 years of Japan's woodblock print history.
Mr. Silver is a Cape Cod summer resident and a New Jersey native, educated at Drew University and Rutgers University.