Japanese Crafts
Most of these crafts were created in the last 100 years, but all represent a lineage which traces back centuries – in some cases a millennium or more. There are a few examples which are original to Japan's Edo period (1603-1867), or to its Meiji era (1868-1912).
Hagi Tea Bowl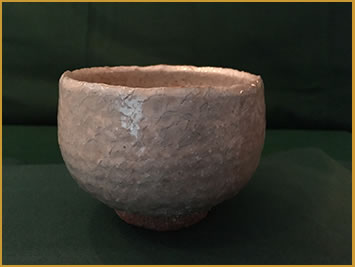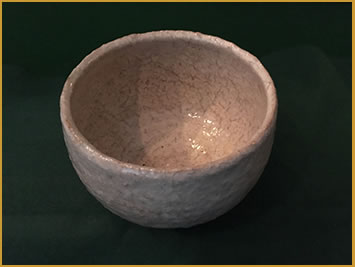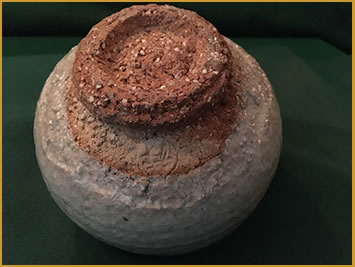 Hagi ware traces its origin to warlord Toyotomi Hideyoshi's invasions of Korea in the 1590s. Hideyoshi was the second of three "Great Unifiers" who brought an end to more than a century of civil war and brought Japan under the control of a single ruler. Hideyoshi did not succeed in conquering Korea but he did have a lasting influence on the course of Japanese ceramic history by bringing master Korean potters to Japan. Hagi, located on the southwestern tip of Honshu on the Sea of Japan, was a beneficiary of this policy when its domain lord followed suit and brought two Korean potters to Hagi.
Hagi pottery is known for its uncomplicated, purely functional design, which is one reason it is so highly valued by tea masters. For the past 400 years, tea ceremony hosts have preferred this kind of "imperfect" simplicity to flawless complexity intended to impress. They also appreciate the beautiful, delicate white glaze for which this type of Hagi ware is well known.
This contemporary piece is a good example of "crazing," or "crackle," which comes about through contraction of the glaze. You get this effect in pottery during the cooling process if the glaze contracts more quickly than the underlying clay – after they've been fused together in a fiery kiln. Crazing originally was considered a "mistake," or resulting from lack of skill. But it's come to be recognized as a worthy option in the creation of beautiful pottery.
And a final interesting point. Have a look at the base in the third picture. It's a good opportunity to see what unglazed clay can look like after it has been fired. If you look closely you can see that this particular clay is very porous, something for which Hagi clay is noted.
The piece in these photos was created by Deishi Shibuya, a noted Hagi artisan.
© 2017 Tom Silver
Black Raku Tea Bowl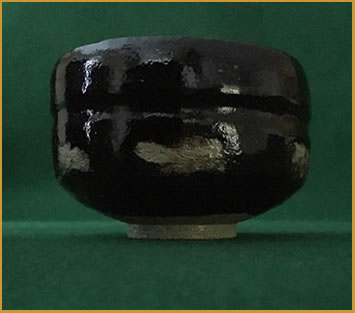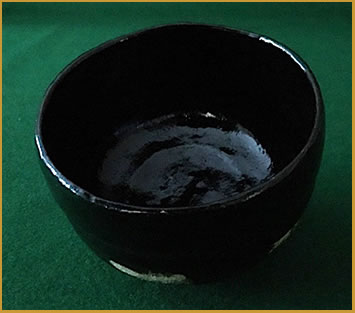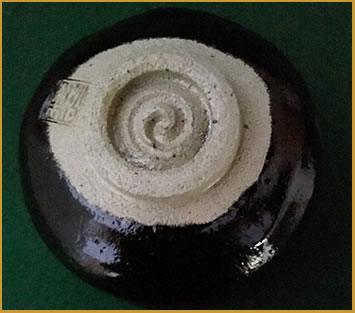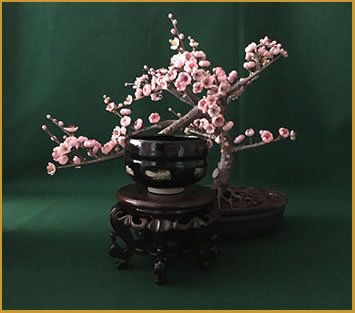 In late 16th Century Kyoto Sasaki Chojiro created pottery for use in the tea ceremony. His work was much admired by warlord Toyotomi Hideyoshi and tea master Sen no Rikyu. Hideyoshi gave Chojiro (or Chojiro's son – there are conflicting sources) a gold seal with the character for Raku, which means enjoyment, comfort, or ease. "Raku" then became the family name but has since applied more broadly to Chojiro's style of pottery making by potters well beyond Kyoto.
Chojiro and his family couldn't have hoped for two more influential patrons. Sen was Japan's most important tea master at the time, and Toyotomi was both Japan's ruler and a famous connoisseur of tea implements.
Raku pottery was influenced by the lead glazes of Ming Dynasty China (1368-1644) and the tea bowl designs of Yi Dynasty Korea (1392-1910). This ware uses soft clays found in Kyoto and is fired at a low temperature (low for pottery) resulting in a fairly porous finished bowl. It is worked by hand and spatula rather than "thrown" on a potter's wheel. This hand-working is thought to best express the creative impulses of each individual potter.
The glaze on this 20th Century Raku bowl has an interesting history. Most of the raw material for black raku glaze originated with black pebbles in the Kamo River in Kyoto. But the pebbles quickly became scarce as potters scooped them up, presumably when the riverbed was in its dry season. So potters got creative and found another source. It seems centuries-old local gravestones had been fashioned from black volcanic rock mined from nearby mountains – the same rock which had turned into pebbles. Fortunately, it is no longer necessary to chip away at gravestones because the stone became available to potters in powder form.
The piece in these photos was created by Shoraku Sasaki, a noted Raku artisan.
© 2017 Tom Silver
Oribe Tea Ceremony Sweets Bowl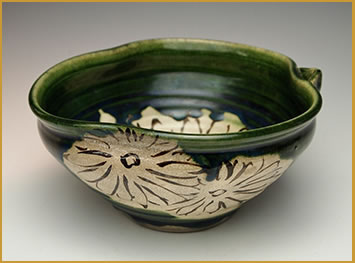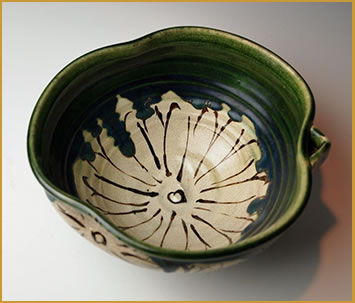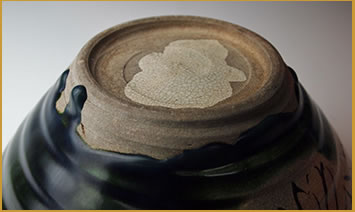 This bowl is an early 20th Century example of Oribe ware, which dates to early 17th Century Japan. Its originator was Furuta Oribe, a warlord and devotee of the tea ceremony – not at all an unusual combination for the period. Oribe radically changed the tea aesthetic by introducing irregular shapes and brighter colors to his bowls, as seen in this beautiful example of his style.
Oribe is best known for the copper "Oribe green" glaze also seen here, which was selectively dipped onto the white underglaze in this example. You can see numerous instances of this dipping in the second and third photos, where green glaze drippings abound. The bowl was initially formed on a potter's wheel before the manual process of misshaping began.
Under the Japanese "wabi" aesthetic, distorted shaping (of which this bowl is an extreme example) was appreciated if it was the natural result of human imperfection – and was something to be valued rather than disparaged. The irony of Oribe's distorted shaping is its deliberate perfection of the unintended art of imperfection. So while the shaping here is not true wabi, the many green glaze drippings do in fact qualify.
The Japanese term for this type of pottery is Kashiki, which is the generic name for any kind of dish used to offer light sweets as part of the tea ceremony.
© 2017 Tom Silver
Hakata Doll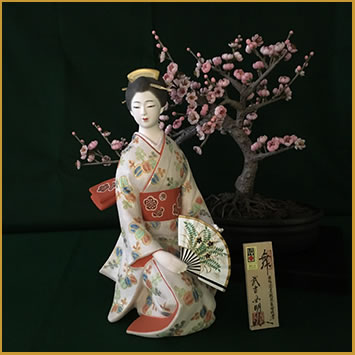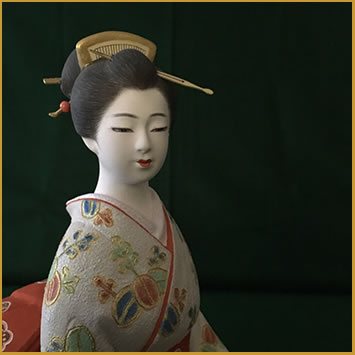 The Hakata doll is named after the Japanese city where it was originally produced 400 years ago. Today Hakata is a district in the city of Fukuoka, on the island of Kyushu. Hakata dolls are an example of bisque (or "biscuit") porcelain – a ceramic clay which is fired once but then left unglazed. The feeling was that glaze detracted from the natural beauty of fired clay, which in unglazed form enabled viewers to feel the warmth of the soil (in the words of one local expert).
These dolls went global during the Meiji period (1868-1912), when they were exhibited along with other Japanese arts at major international expositions. As one result a considerable export trade developed in Hakata dolls. For over a century the Hakata doll has benefitted from the attention of top Japanese craftsmen, including the 20th Century creator of this example – Kuniaki Takeyoshi. The second photo gives a close-up view of this unglazed ceramic, and Kuniaki's masterful artistry.
© 2017 Tom Silver
Shishi Lion Foo Dogs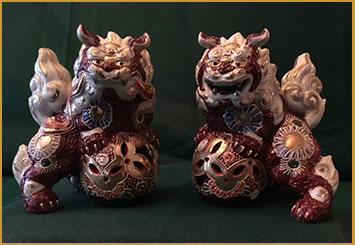 Lion dogs are popular decorative items in Asia. They're created in ceramic form as in these photos, but also in wood, jade, silver, and bronze, among other materials. Lion Dogs originated in China as large statues made of stone or some other durable substance, and guarded important buildings based on a presumed magical power to protect. The moniker "shishi lion foo dog" combines the power of the lion with lion-like features of Chinese dog breeds like the Chow or Pekingese.
This particular pair is an example of Japanese Kutani porcelain, which had its origins in the town of Kutani on the west coast of Japan. High grade ceramic clay was discovered in the area in the mid-17th Century but Kutani craftsmen lacked the knowledge to exploit its potential. So a member of the local ruling clan was sent to Kyushu, the southernmost of the four Japanese main islands, to learn the craft from expert Korean potters brought to Japan during the wars between the two countries a half century earlier.
Today Kutani has come to mean a style of ceramic rather than a physical production center. That style highlights a vivid approach with striking designs and lots of overglaze, as these lion dogs make apparent.
Please see the Individual Shishi Lion Foo Dog for another approach to the Japanese ceramic lion dog in the next selection.
© 2017 Tom Silver
Individual Shishi Lion Foo Dog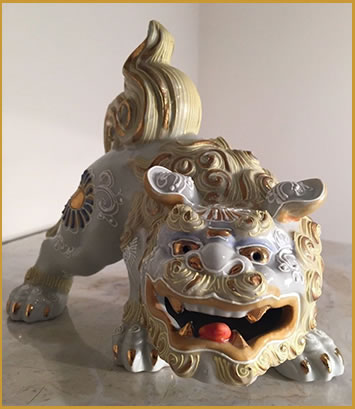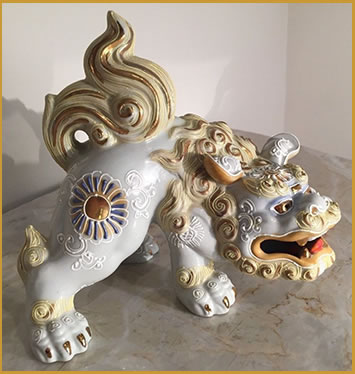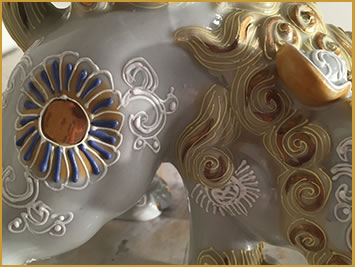 These photos show an unusual example of the Japanese lion dog in that there is only a single piece instead of a set of two. Note the overglaze in the third photo.
For a more comprehensive discussion of the lion dog, please see the previous selection, "Shishi Lion Foo Dogs."
© 2017 Tom Silver
Inro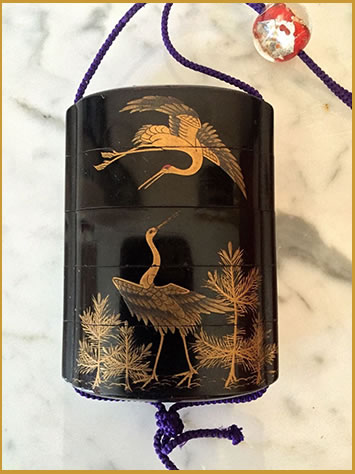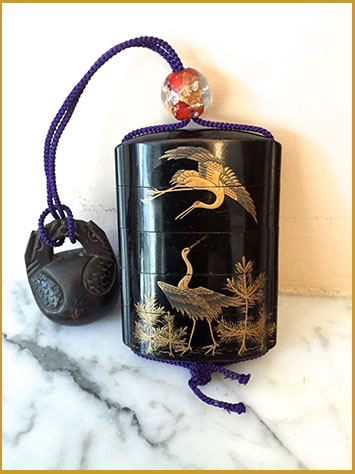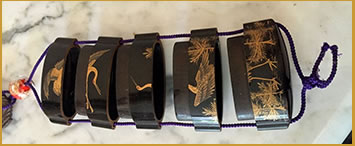 An Inro is a grouping of small compartments which compress into one another to form the object in the photos. It was essentially an accessory (to use a modern term) which became a standard part of traditional Japanese dress, and hung from the obi (sash) as a kind of miniature purse. Typically it contained medicinal herbs, tobacco, personal seals – whatever its possessor wished to carry that was small enough to fit.
A cord connected the compartments, which came together into a single unit when the cord was tightened by means of an ojime bead. The units separated into their individual compartments when the cord was loosened by the ojime (third photo). A netsuke was attached to the cord end (second photo), and when slipped around the obi secured the inro in place.
Both inro and netsuke transformed from purely functional articles into sophisticated art forms, and have become quite collectible. There are many examples of lacquered inro with highly skilled designs. The photos provide a compelling example, but the netsuke here is easily surpassed by the wonderfully carved netsuke lion dog in the next photo group.
Dimensions of this piece will give you an idea of typical size, with height at 3.25", width at 2.25", and depth at 7/8". This example from the Meiji Period (1868-1912) is lacquered wood, but materials such as ivory or bone, or even silver were not unknown. Wearing expensive, beautiful inro and netsuke was one way to project your wealth and sophistication.
© 2017 Tom Silver
Netsuke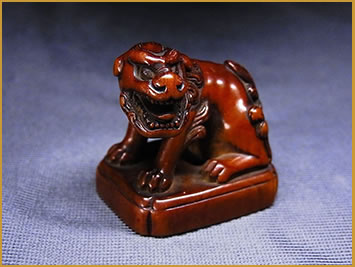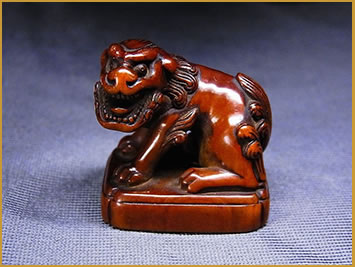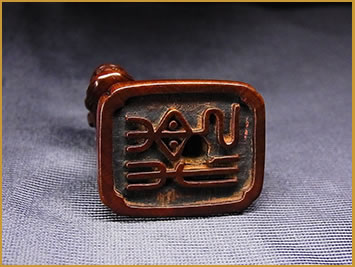 Netsuke are typically small wooden carvings which form part of a traditional Japanese clothing accessory. These carvings were in fashion from the 17th to early 20th Centuries, and rose to the level of art form when skilled wood carvers saw an opportunity to sell to the rising merchant class during Japan's Edo period (1603-1867).
Before the modern era, the Japanese wore robes which lacked pockets. A small external container consisting of separate compartments became a workable substitute. This container is called an inro (please see photos and commentary in the previous photo group). Inro were hung from an obi (sash) by a cord which threaded through holes in the netsuke carving. You can see the bottom hole in the third photo, which also is a good picture of the original owner's personal seal. The netsuke's bulk prevented cord and container from slipping away from the sash to the ground.
The netsuke shown here is another example of the shishi lion foo dog, which is presented in ceramic form in the 5th and 6th photo groups. It's an exceptionally fine piece, and dates to the second half of the 19th Century.
© 2017 Tom Silver
Samurai Swords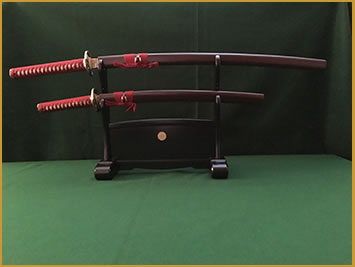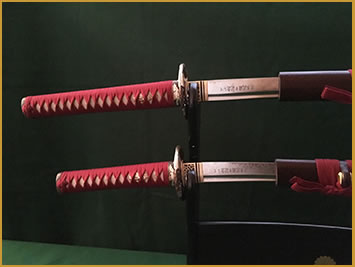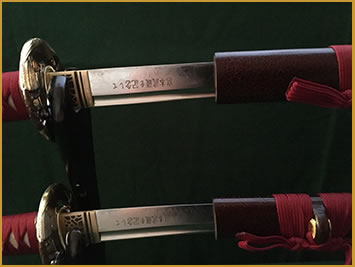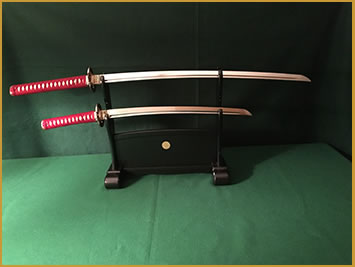 These swords are replicas of the famous samurai two-sword combination known as a daisho, which was worn in the samurai's sash. The daisho consisted of a long sword called a katana, and a shorter wakizashi. Only samurai were permitted to wear swords, and could wield them with impunity. Anyone who failed to show proper respect was at immediate risk of decapitation. The Japanese lettering (kanji) engraved into the blades in the photos translates to "in honor of Musashi Miyamoto," the great 17th Century Japanese swordsman.
In Japan swords fashioned by great masters are revered both as works of art and objects of spirituality. They are also masterpieces of industrial design. Long before there was a science of metallurgy Japanese swordsmiths fabricated world-beating steel blades – sourced from riverbed iron sand, and carbon from the charcoal used to fire the sword furnace. The Japanese sword's cutting edge is widely considered to have been the world's most lethal.
Highly specialized craft masters collaborated to complete the Japanese sword "package" so admired by collectors and museum-goers. Of first importance was the sword polisher, responsible for extracting the splendor concealed within the steel blade. Employing polishing stones of ever-increasing fineness this master artisan transformed functional steel into exquisite art. One wrong move could destroy the sword as an object of beauty.
Then there was the fitting maker, who customized designs for the various metal pieces which held the sword together and made it a viable weapon. And the scabbard maker, whose fine lacquered work was precisely measured to cradle and protect the sword. Others were involved as well, making the Japanese sword a unique combination of lethality and art.
© 2017 Tom Silver
Tsuba Sword Guard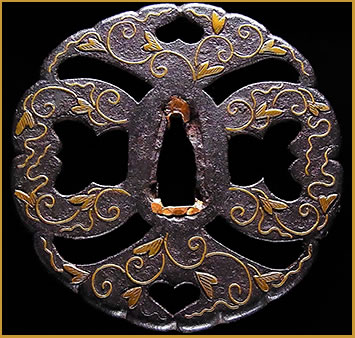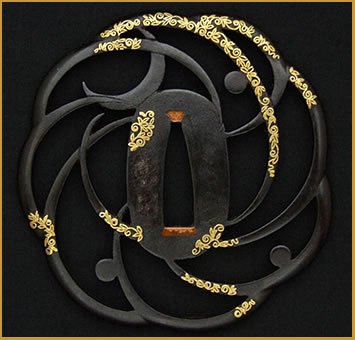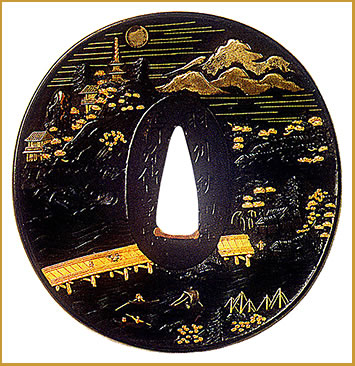 Not only are samurai swords highly collectible today, but so are some of their component pieces – among them the Tsuba sword guard. Just as people today might want to put their stamp on an expensive purchase by having it customized, samurai who could afford it often custom-ordered designs for their sword's fittings (metal parts which kept the sword's components together to form a single unit). During the Edo era (1600-1867) countless tsuba were crafted with highly elaborate designs, as seen in these three photos.
© 2017 Tom Silver
Japanese Buddhist Temple Bell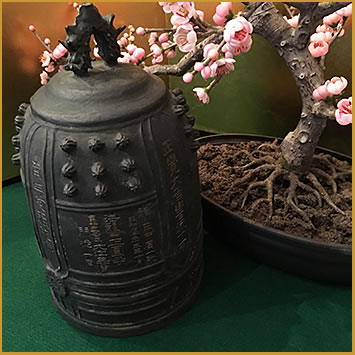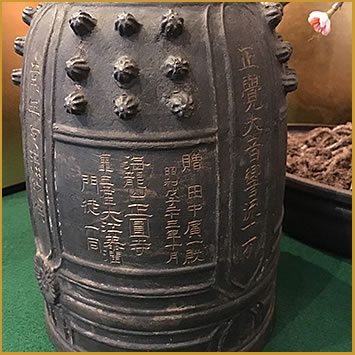 The bell in these photos is a small example of the far larger bronze bells (bonshō, or "sacred bell") found in Japanese Buddhist temples. Their bells can weigh 30 tons or more, which contrasts with this bell's 14 lbs. But the principles are the same. Whether 14 lbs. or 14,000 lbs. or more, they are cast using the same method, which consists of pouring molten bronze into the space between inner and outer molds, the outer mold carved to a standard design with some allowance for customization. That design is what you see in the photos, though this bell was cast to a custom order (in 1948) which is reflected in the lettering (kanji) on its surface. The beautiful tone emitted by Japanese Buddhist bells is thought to awaken listeners to Buddha's voice, and lead them to enlightenment.
Unlike bells in western religious institutions which are struck from the inside with a clapper, large Buddhist bells are sounded by wooden shafts (hung from ropes) which strike the exterior. The larger the bell the more Buddhist monks it takes to swing the shaft against the bell. Smaller bells like the one here are struck by a hand-held mallet.
Buddhism made its way to Japan from its origin in India, via China and Korea some 1500 years ago. Temples and temple bells soon followed. By the 20th Century there were an estimated 80,000 Buddhist temples of varying sizes in Japan, each presumably with one or more bells, many having been cast a very long time ago. So it was a historically sad development in the 1940s when the Japanese government required all but the most historic temples to relinquish their bells to be melted down for the war effort. Some bells hadn't yet been destroyed by war's end and were retrieved for their temples of origin. Since then foundries have turned out bells in sufficient quantities to make up for the numerical loss of the war years. But, sadly, you can never really replace artifacts which are historically irreplaceable.
© 2017 Tom Silver
Lacquer Writing Box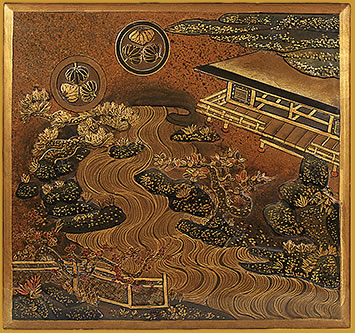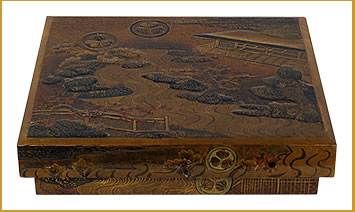 In its raw form lacquer is a sap produced by the lacquer tree, and is highly toxic before it dries. The Japanese worked with lacquer going back seven millennia, applying it to functional items like pottery and to art and religious objects.
The piece in the photo is an elaborately lacquered lid to a writing box, probably crafted for export sometime in the later 20th Century. Aspects of the design tie into Japanese history and art, beginning with the crests in the upper left quadrant. These crests were the emblem of Tokugawa shoguns, who ruled Japan from 1603 to 1867 and were the last of Japan's three historical shogunates beginning in 1185.
Apart from the crests the design harkens back to the great screen paintings of the 17th century Rinpa school, which focused on nature scenes - often with gold background just as in this piece.
© 2017 Tom Silver
Red Lacquer Bowl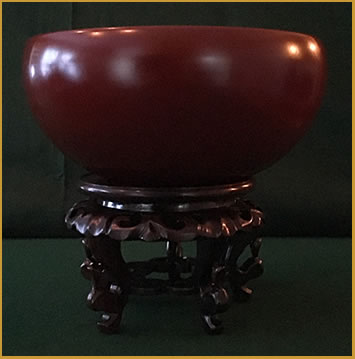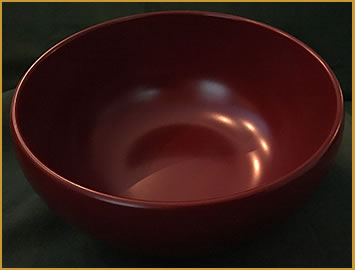 This piece is a contemporary example of Echizen lacquerware, with a lineage tracing back some 1500 years. Echizen, located in Fukui Prefecture about 100 miles north of Kyoto, has been a major Japanese lacquer production center going back to that time. (Please see also the lacquer writing box directly above.)
© 2017 Tom Silver
Amida Buddha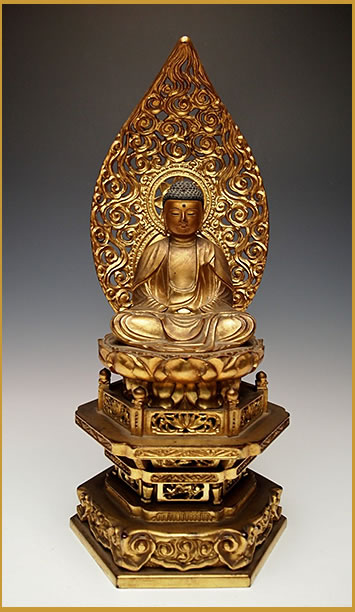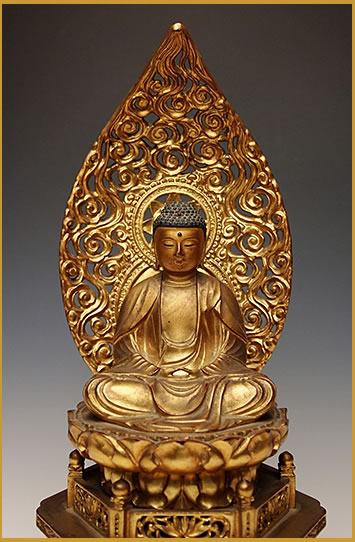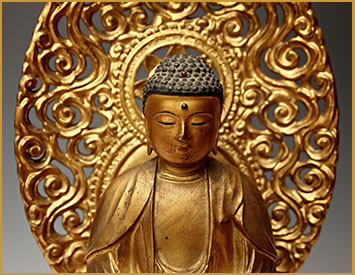 This piece is a hand-carved gilt wooden statue of the Amida Buddha, who is worshipped in Pure Land Buddhism. Pure Land Buddhism was introduced in 12th Century Japan and had near universal appeal. No matter how unworthy your life you could call out to Amida Buddha on your deathbed and gain admittance to the Pure Land – a rough equivalent to Heaven or the Elysian Fields, and a wonderful place to spend eternity.
Buddhism itself came to Japan in the 6th Century C.E. by way of China and Korea – 1000 years after its founding by Siddhartha Gautama in what is now Nepal. Unlike Shinto, Buddhism is one of two religions/philosophies which did not originate in Japan but which has been hugely influential in the country's social and political history. The second is Confucianism, which isn't actually a religion but a philosophy of life as well as a path to enlightened government. Buddha means "the awakened one" – someone who has exited the cycle of rebirth and human suffering by achieving nirvana.
© 2017 Tom Silver
Hina Dolls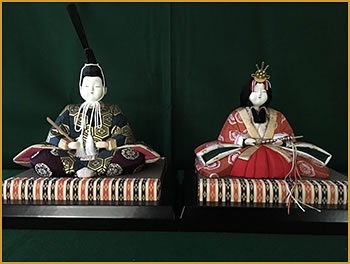 Japan has a long and honored tradition of doll-making dating from clay figures of well over 2000 years ago right up to the present. Nearly all religious and secular festivals call on doll makers to create appropriate dolls for the occasion.
These dolls portray children, demons, fairytale characters, gods, imperial court nobles, and samurai warriors among many other categories. They are lovingly carved, painted, assembled, and dressed so as to represent the people of both city and country.
The Hina Doll traces its origin to the first Hinamatsuri festival, which began in the Heian era (794-1185 C.E.). One feature of this festival is the doll-floating, where straw dolls capture their owners' troubles and float them away down the river, or so it is hoped. Hinamatsuri is dedicated to the blessing of young girls – to the hope that they will be protected through the coming year. (There is also a Boys Day festival, celebrated every year on May 5.)
© 2017 Helen Foley Silver